NetPark is a project designed to commission new artistic, educational and leisure resources for public spaces.
On a practical note the public physical space is mirrored as public digital space, i.e. readily accessible to all and with the potential to grow and change.
This visual toolkit is designed to be adaptable to various locations and constraints. If you'd like to contact us about help with developing a NetPark, then email us at
chalkwell@metalculture.com
.
The planning phase used for NetPark in Chalkwell Park involved a wide range of contributors. This included artists, designers, musicians, computer engineers, park managers, teachers and the general public.
At this stage we spent two days looking at projects happening elsewhere and presenting ideas.
From this a body of knowledge emerged that enabled an outline project to be developed.
The networked park is an idea that excites us as we think about the area that surrounds our building in Southend.
We have developed a carbon neutral base that at the same time operates as a technological and creative hub for artists and the public alike. What if the park had a series of alternative layers or channels accessed by the general public through smart technologies?
How could we augment the parkland experience of everyday users, schools and festival goers while they continue to use it for sport, dog-walking, listening to music and participating in creative activities?
Stakeholder engagement is critical to establishing momentum going forward, particularly in a public space like a park. Over the course of the project we held a number of stakeholder events, bringing in expertise and scoping out problems that needed to be addressed, some technical and some more to do with approach to commissioning locative artworks. A key outcome from this process is the idea of joining up experiences, both physical and digital.
Our design approach therefore moved towards connecting wi-fi, physical signage, digital gateway, website and commissioned works as apps and web projects. Notable useful tools at this stage were Transport For London's excellent
'Legible London'
project. The pressure at local government level to be more entrepreneurial has in turn increased pressure on public places.
Nesta has carried out a study
'Rethinking Parks'
looking at this issue. Within the UK there are a number of agencies developing digital creative media projects, as well as commercial developers. Some examples include Arts Council England, Nesta, Innovate UK and the Art and Humanities Research Council (AHRC). Also within the UK, Local Economic Partnerships are beginning to develop creative industries programmes, recognising the importance of the creative economy. The UK government published a
Local Economic Partnership map.
CARRY OUT LINE OF SIGHT TESTING Public wi-fi requires a series of access points to be installed, connecting to a high bandwidth connection (fibre). The access points require good 'line of sight' to work all year around, including when trees are in full leaf. Allowances should be made for other interruptions in terms of line of sight, i.e. temporary buildings, fun fares, sports equipment or similar. A key technical task is to carry out line of sight testing. This can be done by temporarily rigging access points and then carrying out ping tests over the network. These tests may also incorporate wi-fi channel testing over 2.4ghz (the bandwidth that conventional wi-fi operates on).
There are a variety of tools available to do this: 1. For network ping or packet testing
http://www.speedtest.net/
(works on smartphones and laptops) 2. For wi-fi channel testing
howtogeek.com/how-to-find-the-best-wi-fi
Once you have carried out your audit across your public space, then you can decide upon the best locations to mount your equipment. You can also set your devices to work on specific wi-fi channels to avoid interference from surrounding networks. In the case of NetPark in Chalkwell Park we used
Ruckus Wireless
equipment which operatives with an easy to use 'Zone Director'.
The Zone Director is connected to your external network supply and is in turn connected wirelessly to your access points. The Chalkwell Park system uses 5ghz radio links within the network to manage backhaul. The backhaul (5ghz) is the part of the network that connects directly to the internet supply and then converts to 2.4ghz access points to provide a more robust system. Access points can be assigned to the system with different areas of coverage, i.e. 120 degrees, depending on the type of space you are supplying with wi-fi. Access points require power to operate, often with power over ethernet (PoE). This means you need to be able to cable the access points back to a network that can supply power or use a standard
PoE convertor
You can employ the services of a wi-fi company to carry out your wi-fi audit. It is also recommended to get them to install the system.
CREATE A ZONE MAP (OR PLAN VIEW OF YOUR SPACE) After you've carried out your audit of your public space you need to consider which areas to overlay projects onto. A zone map helps to establish clear understandings among the parties involved as to where to locate projects.
Not all projects require persistent wi-fi (i.e. preloaded apps) but doing so establishes multiple points of access and public amenity.
Our NetPark Zone Map shows the areas fully tested against the wi-fi. With this we can move on to making the work with artists.
KEEP TESTING Many of the NetPark apps are locative experiences. For an overview on locative media and art visit
The GPS Museum
. An important understanding in our toolkit is that some artworks may require wi-fi and some GPS alone. Most smart phones have excellent GPS, however iPads and tablets may have poorer facilities for these kind of projects. It is therefore important to commission work that lines up with your technical and zonal plan. The wi-fi at Chalkwell Park was tested over a six month period. The main technical issue in this time was radar interference from aircraft landing at nearby Southend airport.
For obvious safety reasons, wi-fi systems are designed to knock themselves out on encountering transmissions from radar. The solution in this case was to switch the 5ghz backhaul channel which solved the problem. The 2.4ghz spectrum is not affected by radar but does pick up interference from other similar devices.GPS reception is affected by a number of environmental factors. In the best case, GPS is accurate to 3.5metres but this may break down in built up areas where the device (smartphone) may be obscured from the satellite. Contrary to popular understanding civilian and military GPS have
the same level of accuracy
.
There are software tools to test GPS accuracy, however response across devices can be alarmingly different (up to 30 – 50 metres). For a good quality experience exiting from a building, allow a few moments out in the open for the device or app to set itself. Then move on. Most of the NetPark projects all have the same starting point (in this case outside the main entrance to Chalkwell Hall). A note on iPads. In order to achieve acceptable GPS response for iPads we have had to upgrade them with external GPS boosters. We used the
Bad Elf plug in GPS device
. This adds cost to your project. The 3G/LTE iPad's do have GPS on them whereas the standard ones do not.
NetPark has a bespoke web gateway for users to browse projects onsite in the park or at home. We encourage visitors to download their chosen apps in advance at home but they may also use the wi-fi onsite. To use the wi-fi they need to clear the terms and conditions of the network around acceptable use. We can blacklist abusers of the network using the back end Zone Director that provides us with MAC address analytics.
A media access control address (MAC address) is a unique identifier assigned to network interfaces for communications on the physical network segment. MAC addresses are used as a network address for most IEEE 802 network technologies, including Ethernet and WiFi.
The web gateway provides the potential to update the project and seasonal programme relating to NetPark. It also can be the point to host non-native app projects.
Physical signage is an important feature of alerting casual and regular park users to the digital layer of NetPark. The signage works in line with the zonal areas and optimises successful use of the projects. Overall the user experience (UX) design of NetPark aims to give a consistent experience from the physical to the digital and vice versa. Signage design operates to include statutory park regulations, as well as 'heads up' maps.
A heads up map shows you the orientation of the park as you view it and not according to a 'north-south' paradigm. This derives from the pioneering work of
Bristol Legible City
.
Signage work requires permissions for the local authority or site owner, as well as careful planning in relation to height (for children) and lighting. NetPark has a series of monoliths located at key points in the park. These are constructed from vitreous enamel and are very durable.
TEST AND TEST OFTEN User testing is vital throughout to avoid expensive mistakes. A common problem is 'a priori' knowledge, assuming that because you know it other people will too. This is particularly an issue with software design (interfaces), navigation and device use.
Here is a summary of tests carried out with NetPark:
Testing wi-fi against heavy loads (i.e. lots of devices)
Testing line of sight of wi-fi across the park in different seasons
Testing with Androids and iPhones (benchmarking devices and operating systems that work)
Testing with children
Testing with inexpert adults
Testing with headphones (for locative sound works)
Testing under different use conditions, i.e. summer holidays and busy periods
Testing with other park uses, i.e. fairs and events
NetPark was advertised nationally and internationally as an artist opportunity, mainly through online journals and social media. The call out solicited over 80 applications and a selection panel chose the final 4 artists. As a public project the selection reflects a broad range of interests from hip hop poetry to talking tress using augmented reality.
Three of the projects were produced as apps using
Calvium's AppFurnace system
. Another work was developed for the Junaio augmented realty browser (now owned by Apple Computer). An additional work was commissioned from Matmos, an electronica band from the USA. Artists were selected based on prior work and not technical ability.
All of the artists attended an introductory lab with technical instruction. This consisted of an overview of app design and development using appfurnace.
NetPark comprises of a series of 'story apps' where school children have worked with writers, artists and illustrators over a series of sessions.
The story apps can be seen here
Children worked with a mixture of traditional materials and digital devices gradually developing an understanding of narrative (set in the park), use of software and illustration. The core skills of literacy, visual thinking and group work create an overview of a creative media process.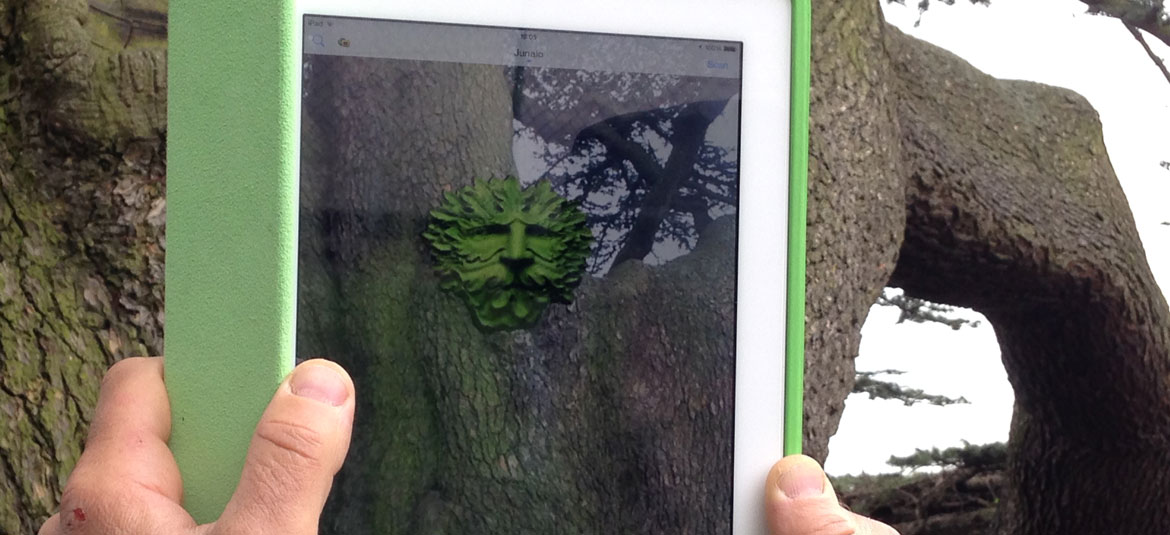 The final collection of works are curated at netpark-h89m.temp-dns.com, mostly designed for park use and at home. As a locative experience NetPark is designed to work with preloaded equipment (iPads) for the public and education users.
NetPark in Chalkwell Park was launched on October 6, 2015.